1967 Hippie to 1997 Buddha
I turned 13 in 1967.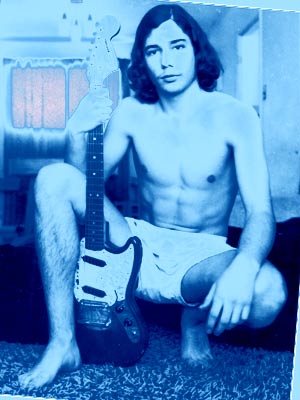 My friends convinced me to trade in my trombone for an electric guitar.
My parents cashed in my horn but refused to buy me an electric guitar.
So I got a newspaper route, saved up enough money for a down payment, and bought a Fender Mustang guitar from Ozzie's Music, in San Diego, California.
I performed for afterschool dances at Harvey Lewis Jr. High, and did my first paying gig, a birthday party, with my band, whose name I can't remember.
We performed "House Of The Rising Sun," some Beatles songs, and "Last Time," by The Rolling Stones. I was the only person who could sing the lower notes of "House Of The Rising Sun," and got a lot of attention for that.
In 1997, I had been teaching Kung Fu for over a dozen years. Several of my students had shaved their heads to become Buddhists. Although I was teaching and preaching Buddhism, I hadn't shaved my own head until 1997, when I was officially ordained in a ceremony establishing me as the Patriarch of Shaolin Chi Mantis Traditional Buddhist Gongfu and Taijquan, Tai Chi Youth, and my own sect of Chinese Chan / Zen Buddhism, Shaolin Zen.
Now, in 2010, 13 years later, I have shaved my head again, and risen to my newest buddhahood, Zhen Shen-Lang the "Hippie Buddha."
I am currently mixing my latest album of American Zen, featuring me as The Hippy Coyote. After shaving my head, I felt uncomfortable looking in the mirror and considering myself to be a hippie. So this new enlightenment is my self-balancing of being both a hippie, and a Buddha, at the same time.
I'm still getting used to it, but enjoying it immensely.
My newest album is LEVEL 4 = KUNG FU COWBOY. The album is a unification of my classic rock music with my Kung Fu Buddhism and also my being a Master Freemason.